1911-GI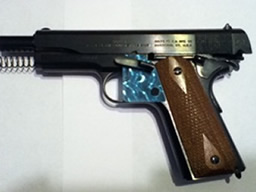 (The sample 1911-GI ISPT™ shown above, made from Rowlux® polycarbonate film, is for demonstration purposes only.)
The 1911-GI ISPT™ was designed with World War Era 1911 pistol grips in mind. Whether you have an actual World War I or World War II military-issue pistol (or replica) or you simply like the look and feel of GI-style grip panels on your modern-manufacture 1911, this ISPT™ will do the job for you.
This ISPT™ is made out of clear, .007"-thickness Mylar® polyester, just like our 1911-Professional. This material is very durable and impervious to many chemicals. Our staff has subjected one 1911-GI ISPT™ to as many as 75 disassembly/reassembly operations without wear-through.* It is also durable enough to attach to your keyring for everyday availability!
* Results may vary. Keep a close eye on your ISPT™ and be sure to replace it prior to wear-through.
(Prices to the right do not include shipping & handling. Please click here to go to the FAQ page for details on this information.)