KIMBER® SOLO™ CARRY 9MM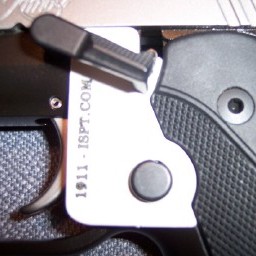 (The sample Kimber® Solo™ Carry 9mm ISPT™ shown above is for demonstration purposes only.)
The Kimber® Solo™ Carry 9mm ISPT™ has been meticulously designed to fit the unique layout of this terrific pistol. You'll find that it protects the frame from scratches, while still permitting you to pick up the retention spring with the lug of the slide stop, as specified in the pistol's user manual.
This ISPT™ is made out of clear, .007"-thickness Mylar® polyester, just like our 1911-Professional. This material is very durable, and impervious to many chemicals. Our staff has subjected one Kimber® Solo™ Carry 9mm ISPT™ to as many as 75 disassembly/reassembly operations without wear-through.* It is also durable enough to attach to your keyring for everyday availability!
* Results may vary. Keep a close eye on your ISPT™ and be sure to replace it prior to wear-through.
(Prices to the right do not include shipping & handling. Please click here to go to the FAQ page for details on this information.)