1911-AMERICANLEGEND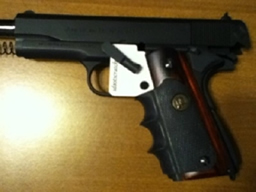 (The sample 1911-AmericanLegend ISPT™ shown above is for demonstration purposes only.)
The 1911-AmericanLegend ISPT™ is uniquely designed to fit 1911 pistols that proudly wear Pachmayr® American Legend grips (this includes the beautiful grips on Springfield's MC Operator®, model PX9105MLP).
This ISPT™ is made out of clear, .007"-thickness Mylar® polyester, just like our 1911-Professional.  This material is very durable and impervious to many chemicals. Our staff has subjected one 1911-AmericanLegend ISPT™ to as many as 75 disassembly/reassembly operations without wear-through.* It is also durable enough to attach to your keyring for everyday availability!
* Results may vary. Keep a close eye on your ISPT™ and be sure to replace it prior to wear-through.
(Prices to the right do not include shipping & handling. Please click here to go to the FAQ page for details on this information.)